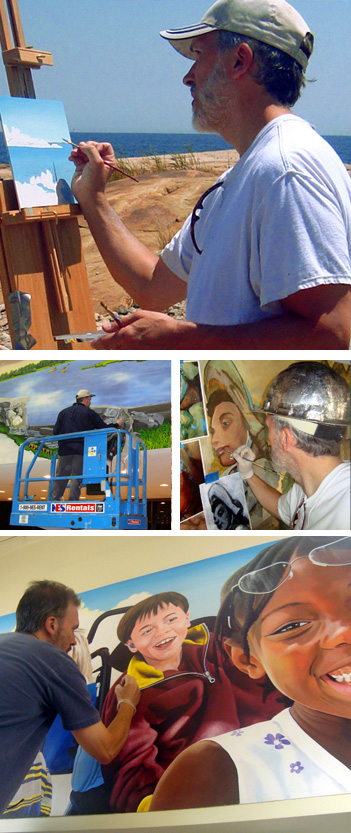 My name is Charles. I'm an Artist. I paint Murals, Portraits, and Paintings on canvas. I do Mosaics too. I've been painting professionally for almost 30 years. I've worked for a wide range of clients – from hospitals and healthcare facilities, to museums, churches, city and state governments, commercial, residential, and everyone in between.
Following are the services that I offer:
• Murals: I specialize in hand-painted Murals! I can custom design and paint a Mural at any size, at any height, and at any location in the country! Over the past two decades I have designed and hand-painted hundreds of Murals for an equal number of well-pleased clients. Visit my Murals page to see a few examples of my eye-catching, attention-getting work – including the big scenic Mural that I painted in the cafeteria of Rhode Island Hospital, the Diorama Mural that I painted for a Science Museum in New Jersey, and some of the residential Murals that I painted in luxurious homes around New England.
• Portraits: My hand-painted portraits capture not only a person's unique appearance, but also their personality! Every detail – even the most minute – is included in a genuine work of art that will last forever! I work equally well in a variety of media, so Clients can choose between oil, acrylic, charcoal, pastel – even mosaic! Visit my Portraits page to see a few examples of my Portraits painted in oil or acrylic on canvas – including some of the Pet Portraits that I painted of furry family members.
• Paintings:  Paintings of any subject matter can be commissioned in oil or acrylic on either cotton or linen canvas. All sizes are available. You may also purchase an original Painting from my private collection. To see examples of my work, check out my Paintings page to see a series of stunning Rhode Island seascapes – and visit my Plein Air Paintings gallery to see work that was painted in the great outdoors!
• Prints:  Fine Art Prints and Poster Art Reproductions of my Seascape Paintings are available in a variety of sizes, and in a variety of media – including textured papers, canvas, even aluminum! Prints are a way to enjoy a great work of art at a very affordable price. Contact me to discuss your specific needs.
• Restoration Work: Murals and other kinds of Decorative Art can sometimes suffer damage. I can bring a Mural back to life and fully restore a damaged work of art! For example: In 2016, I repaired and repainted portions of the historic mural in the dome of the Rhode Island State House. In 2019, I repaired and repainted the faux finish on two giant walls inside the Stadium Theatre in Woonsocket, Rhode Island. I've also done restoration work at St. Peter's By The Sea Church in Narragansett, Fairholme Mansion in Newport, and many other places.
I'm always on the lookout for new and interesting commissions, so contact me today! I look forward to working with you!
Charles C. Clear III
cc@oceanstateart.com
(401) 722-8299